Learn Acting


Acting Workshop
Acting Workshops in Mumbai is all about knowing, and understanding actor within you. Enhancing the creative knowledge and preparing for acting career. Join our weekend acting workshop conducted every Saturday Sunday at 2pm. We offer learning, practice, knowledge, excercise at the most reasonable price.
At Workshop...

Improve Acting Skill.

Build Confidence.

Enhance Body language.

Work on Dialogue delivery and Diction.

Understanding Scene and Character.

Learn "How to face Audition."

Prepare yourself for Acting, Modeling Career.

Improve Urdu language for better Dialogue Delivery.

Individual Attention to all students.

Difference between Film and Theatre Acting.

Exercises to improve memory.

Mind control techniques to De-Stress and overcome Anxiety.

Overall Personality Development.

Mime and Face Expressions

Stage fear and Public Speaking.

Many more things which you can learn and understand only during Workshop.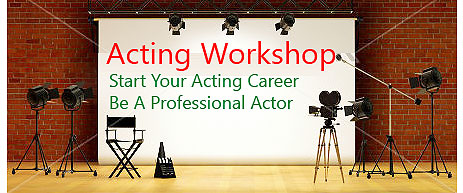 Film, TV, Theater Weekend Acting Workshop
call : 9769314838
One of the oldest and most successful Acting workshop in Mumbai.
Fees Rs. 15000/-
Every Saturday and Sunday for 3 months.
Timing : Afternoon 2pm to 6pm
Course Include : Acting Improvement Exercises, Diction, Dialogue delivery, Body Language, Method and Scene Analysis, psychology of acting, Improvisation and many more things new about Acting. Our Teachers will guide you for improvement accordingly. This is to the point course and very practical at Budget Price.
Special lecture on "How to face Auditions."
You will learn many new things.
This course is divided into sessions and every session will cover one important aspect of Acting. A Course for those who want to start career in Acting the right way.
(for more details about Acting classes please contact : 9769314838)
No hidden cost
Call 09769314838 for Weekend Acting Workshop details.
---
Looking for Mumbai Acting School?
We offer "Acting Workshop" in Mumbai.
A workshop for those who know and understand the meaning of learning, practice, and exercises. And ready to work hard with us.
This workshop is for people who are passionate and dedicated to make their career in Acting.
This Acting Workshop is unique knowledge, and practice based, which is very important for your acting career. You learn Acting the right way.
We teach you unique exercises that you do at your home to improve yourself as an actor. We mainly focus on your voice, diction and body language, these are the two most important element of Acting. Beside this you learn expressions, you learn the technical part of "Acting in Film" and Television. You learn how to approach and behave with Film and TV Industry people. In short within 3 months of training you improve yourself as an actor and learn "how to start career in Film and TV Industry".
We help you start career in Acting. We Polish Your Skill, Guide you and teach You how to Face Acting Audition.
This Acting Workshop not only develop your personality and style, not only polish your Acting skill but also make you good human being. Join us to understand the psychology of acting.
Course Include : Learning and Practice Sessions.
(3 months Course)
(We also give practice and exercises to do everyday at your home to improve acting)
Course : Exercise for Acting, Dialogue delivery, Diction, Body Language, Blocking, Speech, Dialect, Voice, Expressions, Improvisations, Film, TV, Theatre Acting, Understanding Characters, Grooming, Glamour Modeling, Practice to improve languages such as Hindi, Urdu, English, Interactions, Reactions, Mime, Personality Development, Psychology of acting, Creative Thinking.
Special Lecture on "How to face Audition"
Also we guide you to start your career as an Actor and help you get Audition information.
for more details
(Visit our office at Goregaon west, Mumbai, to enroll. Office open everyday 11am to 6pm)
It is easy to spot a trained Actor from the crowd.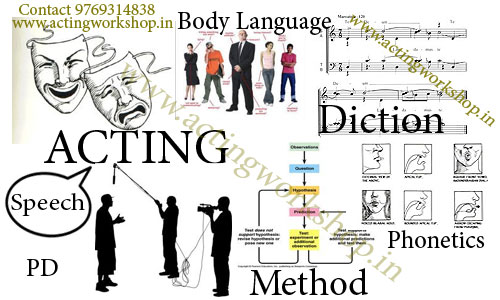 Come out from the crowd. Be a Trained Actor
Trained Actors are always first choice of Directors and Casting Directors.
To be a successful Actor you need to polish your Acting skill. It is better to get rid of small mistakes that we do in front of camera. Your teacher will help you understand your faults and improve it with proper suggestions. You need a professional help to observe your acting skill.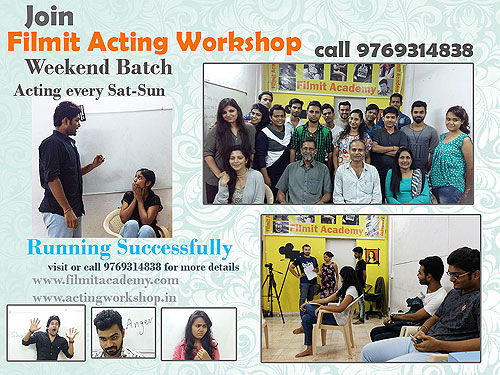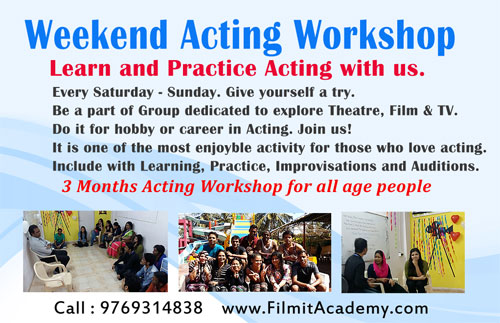 We teach in a easy way, we regularly conduct group weekend batches of Acting Workshop in Mumbai, India. Our motto is to help aspiring actors know and understand all the important aspects of film and TV acting at a very reasonable price.
Learn Acting in short course and understand the basics of Acting for Indian Film and TV Industry from experts. We teach you the right method and help build your confidence to face camera and attend auditions.
We prepare you to act like a professional keeping aside all your fears of facing camera. We help you learn all the aspects of acting in a easy and simple way.
Acting classes are normally very expensive, but here we offer you acting course at the very reasonable price as well as joining our Workshop will benefits you in many ways.
Join our Acting Course to learn from Expert Teacher with more attention and more time.
We offer Acting learning effective course in a friendly environment by experienced teacher at the most reasonable price. call us for more details.
Call us to enquire about Acting Workshop.
Address : Plot No. 222 / 1774 , Upper floor, Road No. 6,, Motilal Nagar Part 1,, Goregaon West, Mumbai, Maharashtra. Call : 9769314838